This is a little story using pictures I snapped during our ocean retreats using a fisheye lens.
I had several lenses with me on both locations, and I used my latest purchase, the Canon 8-15mm F4.0L Fisheye lens most of the time. Especially when shooting my kids in action (well they are always in hi-speed action when not sleeping :-)). You can read more about this test on this mini-review I posted a while ago: Canon 8-15mm F4.0L Fisheye lens first impressions.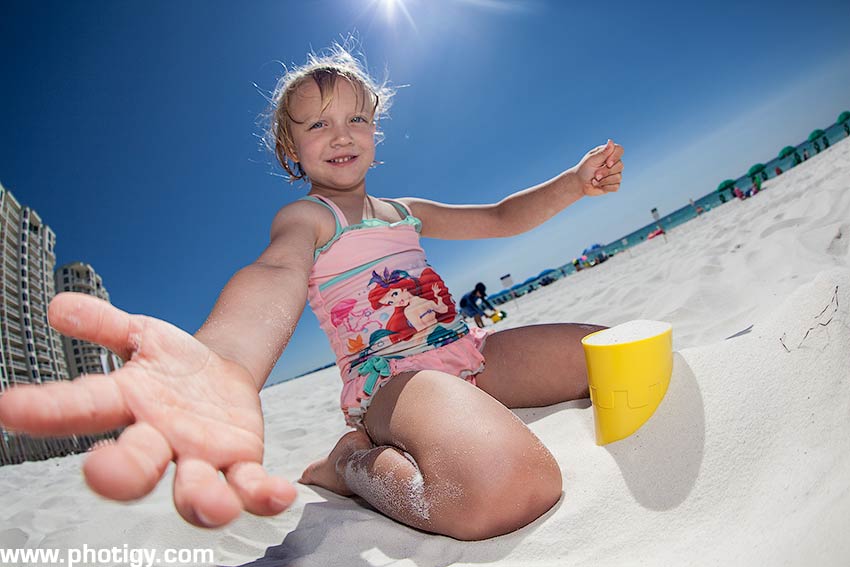 I know many people don't understand fisheye lenses, thinking that it is just a toy for poor (reach?) photographers.
I used to think the same way, before I bought mine. Really, why would I need a lens that produces images with enormous barrel distortion? Even the best ones have quite a serious amount of aberrations all around.
I can tell you this:  it is a unique lens to create crazy and eye-catching images, in any way you'll use it: from landscapes to portraits. Yes, it is hard to get a boring result with this lens; much harder than with any other. :-)
I am going to show you how I was using a Canon 8-15mm fisheye lens in lifestyle (maybe portrait?) photography, a very hi-speed action type of photography. Hope it will inspire you to do something crazy too. :-) Life is short, and the most wasteful way to live it is to be serious all the way to the end, IMO.
This is how I used the fisheye lens to take lifestyle photos:
First of all, in most of the shots I didn't even look at the viewfinder. We were right in the water, running and laughing, and there was no way I could get shots like this if kids were posing. The camera was secured in one hand using a hand strap, and I set the camera to auto selection of focusing points, on servo mode (continuous focusing adjustments). This allowed me to get most of my "running" shots in focus without looking at the viewfinder.
I had to remember to aim it in the right direction, keeping the target in the center of the frame.
We all were moving in many of these shots; photographer and models. I was pointing the camera from the bottom up, almost touching the water, or shooting down from the top. Such angles work best with a fisheye; barrel distortion in this case is a tool to make photos look crazy, and the more we get it the better the shot.
For steady shots where I needed to see the results in the view finder, I used a Canon Angle finder. It is a must-have when you use fisheye lens to shoot people, IMO.
I used a camera-mounted speedlite (Canon 580 EX-II in my case), set to Hi-speed sync (FP) mode. Meaning I was able to shoot at shutter speeds higher than x-sync. In most cases 1/1000 and shorter would be enough to stop action such as running kids.
Camera settings: (Av) Aperture Priority, F 5.6-8, ISO 100. The idea is to have ISO high enough to keep shutter speed relatively short. I do not like (Tv) Shutter Speed priority mode, as I want to control image quality (read: aperture) manually all the time. I raise ISO if needed to keep shutter short.
Exposure Settings is very similar to what I've explained here: 3 Minutes Effect to Make a Difference for Your Photo. In short, I dial "-1" Ev for ambient, and "+1" Ev (or more) for flash exposure compensation. This is what produces such vivid colors of the sky (BTW, fisheye lens is really good at creating a deep blue sky), and slightly overexposed foreground with strobe makes it easier to use that Dodge and Burn technique to add even more drama to the images.
The most important thing not to forget: Make sure you shoot really close to your subject. With fisheye, one foot is the distance I keep to make a cool looking portrait, with the subjects face covering at least 1/4 of the frame.
Enjoy the gallery, click on each thumbnail to open the large image:
Portraits and lifestyle with fisheye lens
 Smile, and people will love you:-)