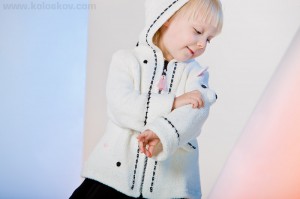 Last week we did our second photo-shot for All Koval, talented children fashion designer we have such nice collaboration with.
This time we shot Hand knit baby coat,  a beautiful white coat with a cute bear face on a shoulder. Our daughter Lilia fell in love with it it instantly!
I had a hard time to think how we can prop the studio for that polar bear outfit, and, as it usually happens, the idea came up just in one hour prior to the shoot:
White pyramids, made from old background roll paper, supported by a little diffuser holder arms suppose to work as an ice rocks, all staged on a white background of an arctic desert.
I've used color gels to make those icy "rocks" blue and orange, the colors of polar dusk (at least this is how I imagine it:-) The whole setup was doe in 1 hour, 30 minutes from it I spent fighting with my CyberCommander and remote receivers; for some reason some of them were dropping the connection, other did not want to adjust lights to it's minimum power…  At this point I am really close to give up with Paul C Buff remotes and go to something more reliable.
The lighting setup looked like this: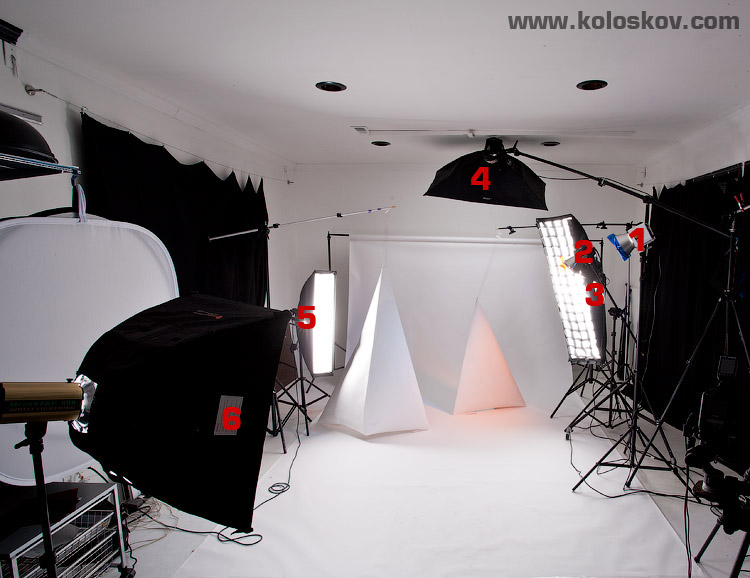 Number 4 (AB 400)  is hanged there to highlight a background, with some spill from it was used as a hair light (kids are small enough to catch that spill). Also, knowing that the kid  won't stay on the "sweet spot" of the composition, I wanted to have as wide as possible light spread from top light on to cover maximum area on the stage.
Numbers 5 and 3 (WL X1600) were working  as a side/hair lights: I have to highlight model with narrow angle to show the texture of the knitted coat.
Small stripbox was used on the left because the main light, number 6 (WL 800) was also on the left: meaning I need narrow spread from that back light .
Lights 1 and 2 (AB400&800) was used to get colors on those 2 pyramids through the honeycomb grind and color gels.
Now, the outcome: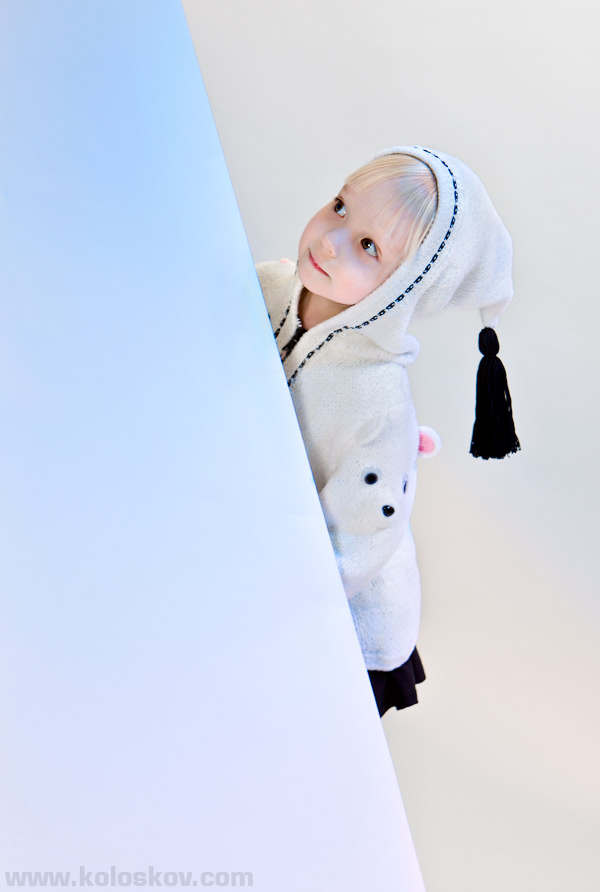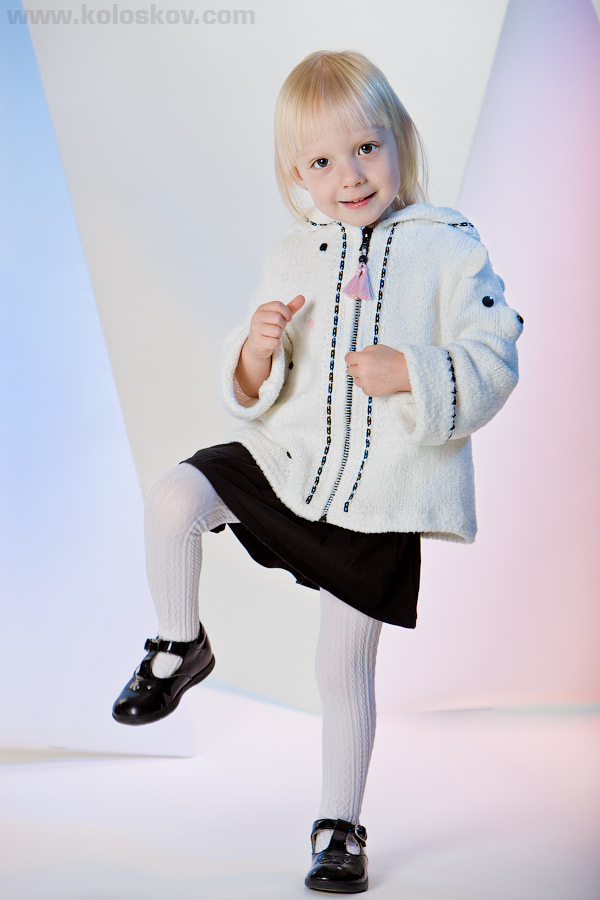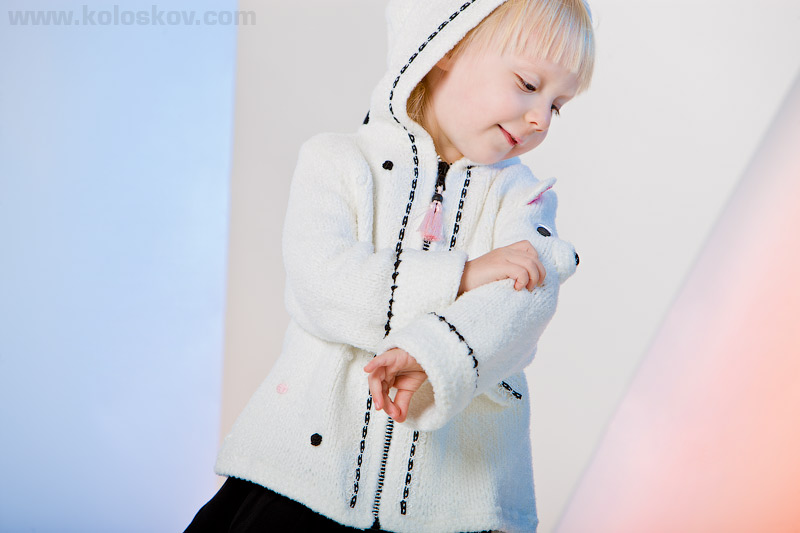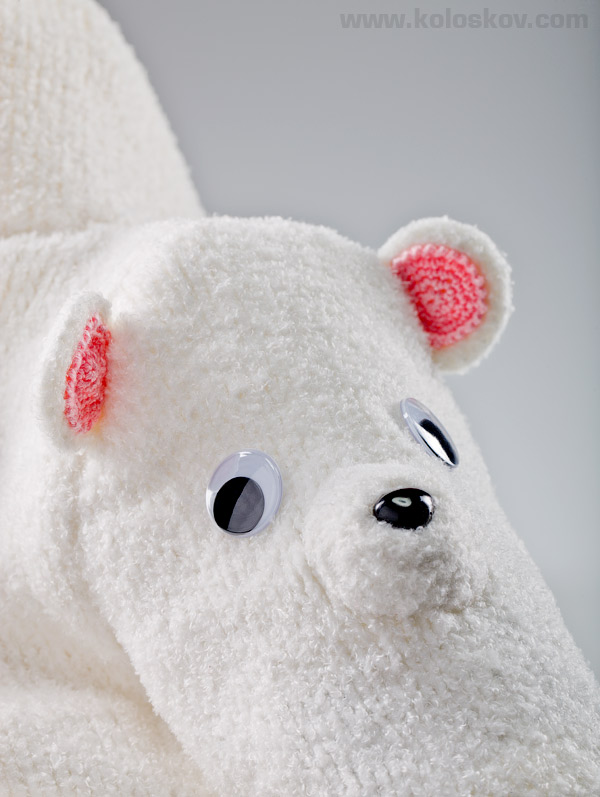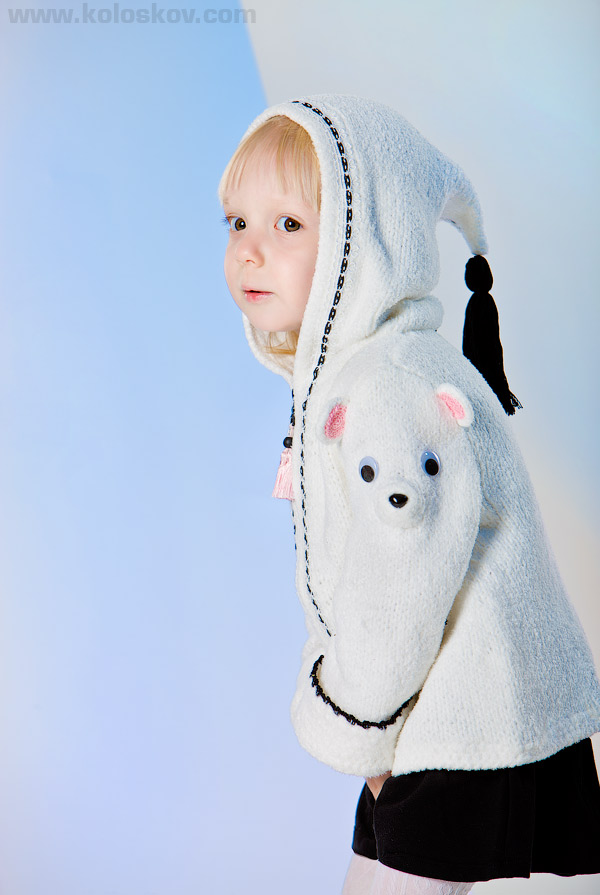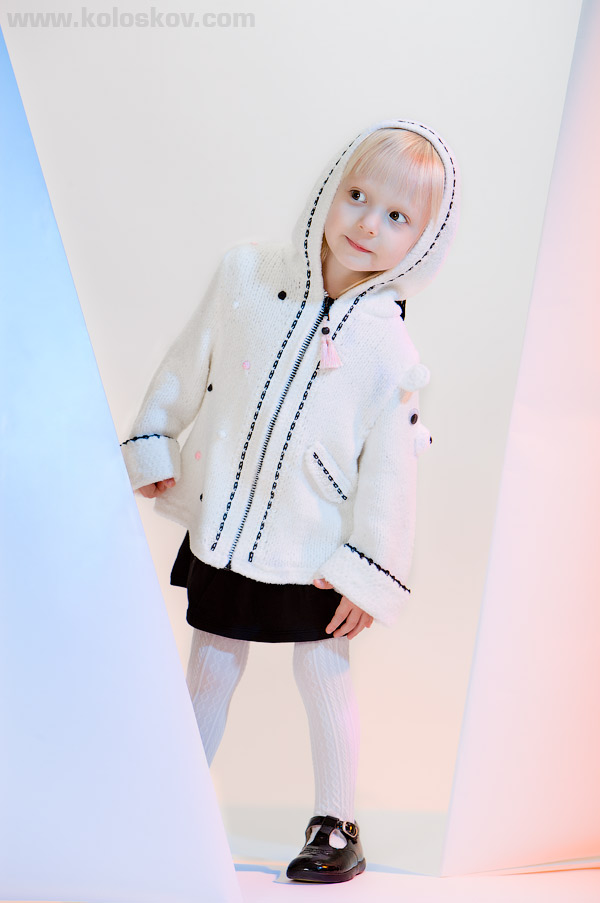 As you see, we got some cool effects when our model went away from the main light, and colored light start hitting her.
Enjoy behind the scene video for the shoot:

More of the images from the photo-shot is on our post-production blog, plus, BEFORE and AFTER roll-over images: I know you would like to see what we did in post production to make them look so nice:-) here it is: PerfectPhotoBlog.com
This is part one,  the second photoset for Alla Koval is in production, will be posted here soon. If you do not want to miss it, make sure to subscribe to our RSS feed or email updates.
---
Camera gear:
Lighting, light modifiers and accessories:
Exposure specification: shutter speed 1/250 sec, F8, ISO 100
---
Enjoy:-)
Alex