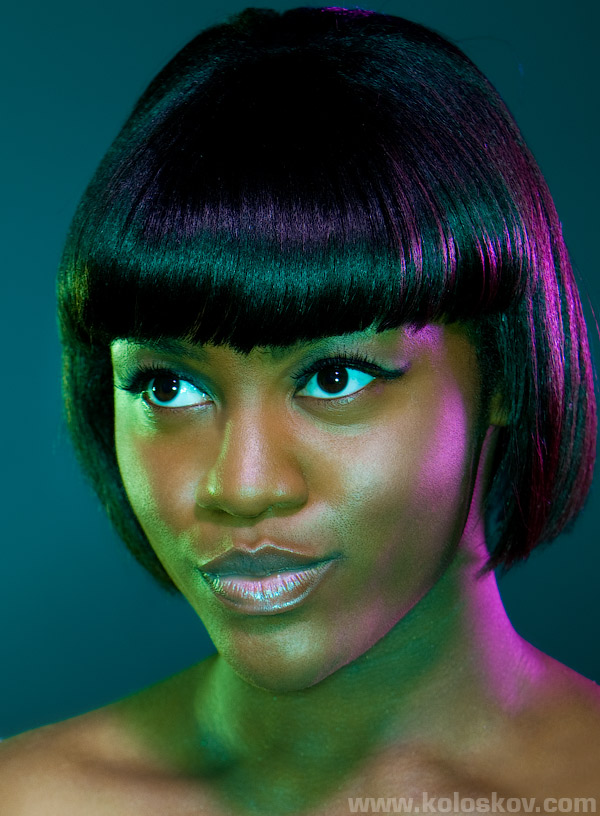 Portrait photography lighting: when ONE color is not enough
I do not understand modern black and white photography, did you know this? It is like cutting off one dimension from the photography world, and I always wanted to have more… more dynamic range, more sensitivity, more colors! That day we tried to expand our usual color palette 5 times more: 5 different colored lights were used in one portrait photo-session.
Yes, I am talking about color gels. In most cases I use them to change a background color or add color accents to a scene, but this time we went wild: about 6 sharp, directional light sources was used to paint a model's portrait. No softboxes, umbrellas or other softeners were used, pure light from 7" reflectors covered by honeycomb grids.
The idea was hanging in the air for a quite some time, and now Kevi Redding, beautiful young singer I was working before, asked me to do portrait for her using colored lighting.
Kevi: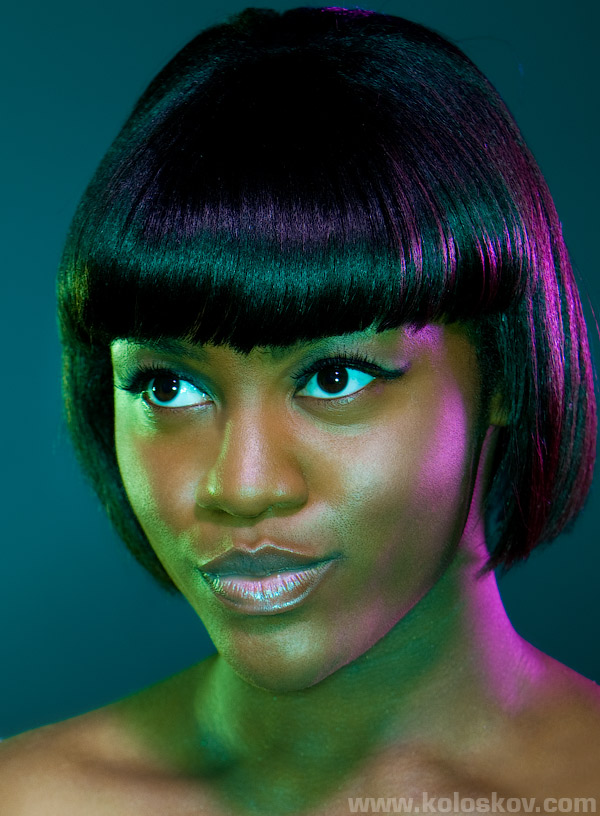 I've enjoyed working with her (I find much easier to work with artistic person) and after we were done and she left, I continued to play with setup and made several shots of my lovely wife: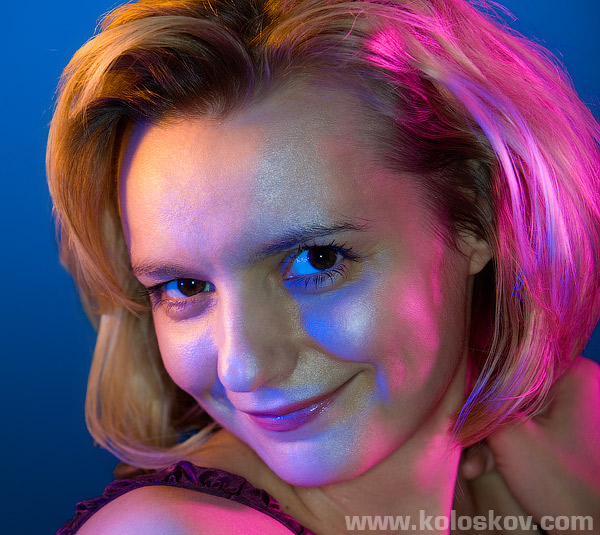 Here is the setup. Several spot lights on a model's face, one on a background. As usual, I did not care about light ratios and did not metered the light. Shooting tethered and using remote control for all flash units makes process much easier and faster without any metering.
Later we add one more light on the left-front and moved left hair light to be more on a side: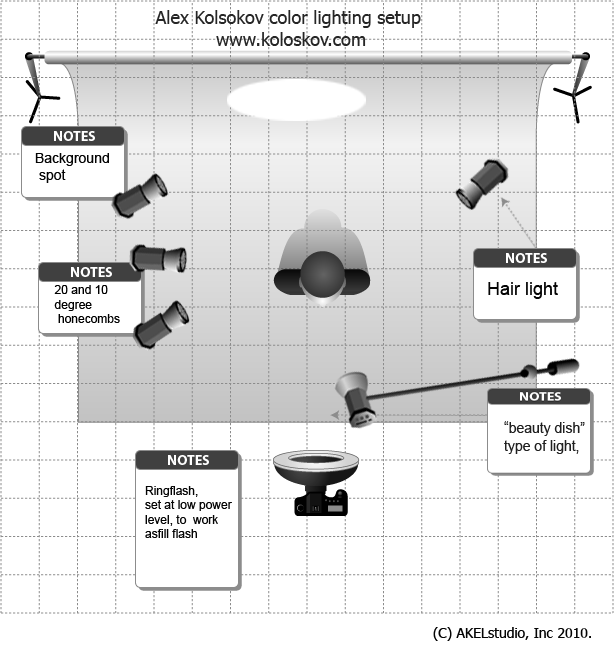 I couldn't use a beauty dish, do not have gels for it (not sure if Paul. C Buff has them either), so I've used 40° honeycomb grid on a standard white-lightning reflector and put a gel on it. Ring flash was set on a low power (my guess is about 2 stops lower), so it worked as very gentle fill light. Some of the results: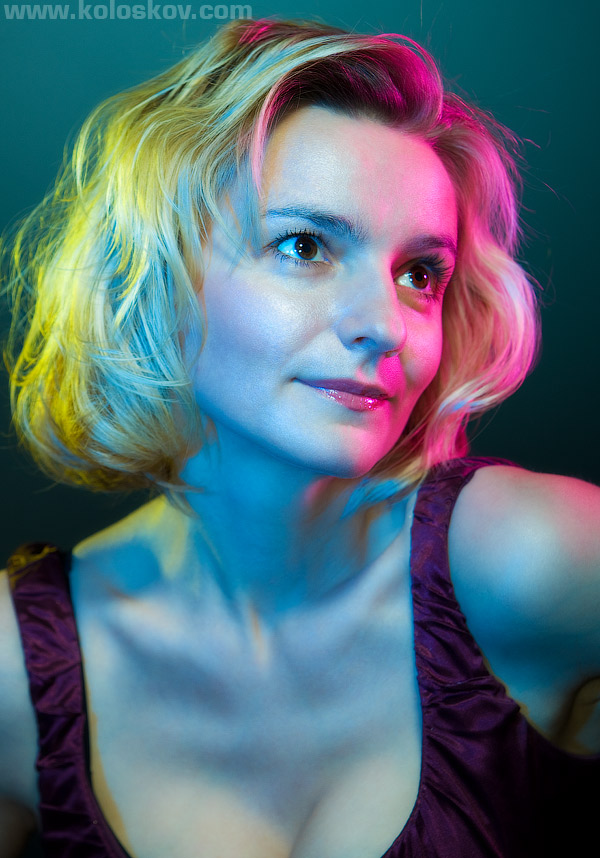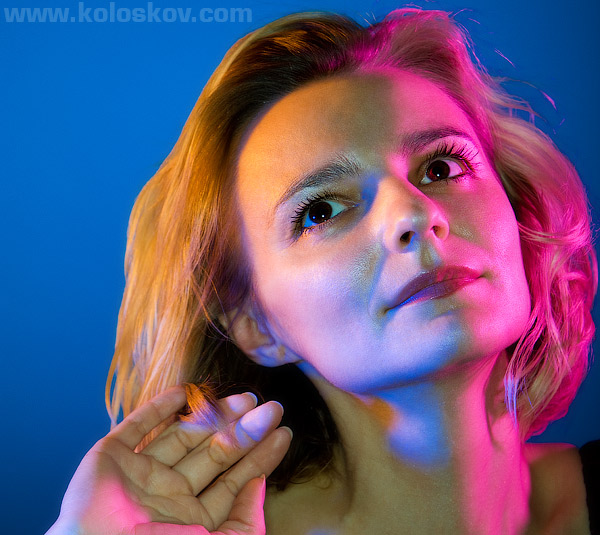 Now I want to share my experience with Abode Lightroom 3 beta 2 I was using for a tethered capture.
I was quite happy with it when I was doing product photography, but now I found it to be extremely slow transmitting the images from a camera to a computer. When I shoot products a shooting rate is.. 1 shot per minute, or less. Shooting a model is a completely different story, shooting rate is about a second. Less or more, depending form flash recycle time.
However, it looks like Lightroom 3 was not able to keep up at such pace. After 4 shoots I would have to wait 10-20 seconds till it gets all images downloaded, sometime it was refusing to do it at all, experiencing some sort of buffer overflow:  I'd have to reset connection to  make it work again.
First I was thinking it was USB was a bottle neck, but not! After switching to a CaptureOne Pro 5, I was getting images on my PC in less then a second, as it should be (theoretical 60 Megabytes/sec of USB, about 22Mb per RAW file from the camera.) Hope this will be fixed in release, as I really like Lightroom 3 as a tethered solution after 3 week of use.
I also got a video right after the shoot, hope it will help you to get more details:
Equipment and shooting spec:
---
Camera gear:
No tripod, camera was mounted on a Alien Bee ring flash on a noname light stand
Lighting, light modifiers and accessories:
All shots were done with: shutter speed 1/250 sec, F16, ISO 100, Custom WB 5600K
---
Your comments appreciated, as usual!
-Alex