Sorry guys, I was busy for all the week and have not finished any photo-project I was working on, finished enough to be posted here with the results.
The good thing is that we got an interesting hangout:-)  Thank you everyone who joined us.
This is our fifth"Studio Photography Insights" Google plus hangout (previous ones are here).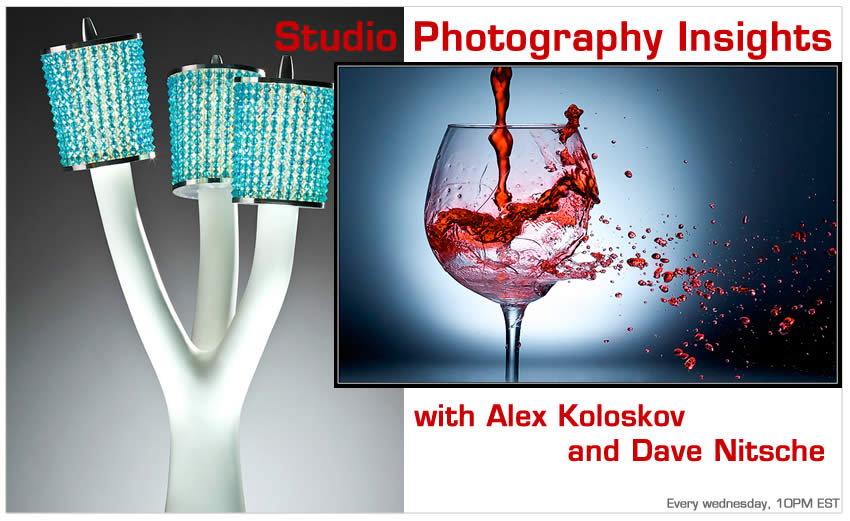 What is new? We got weekly assignments!
From now, we'll be doing weekly assignments: Everyone can work on it and submit results in a comment area of  corresponded blog post (multiple images can be loaded into one comment). Next hangout we'll be reviewing each shot and will talk about what can be improved.  It will be a good idea to supply some information of what you were trying to achieve, as well as a lighting setup: this way it will be easier to troubleshoot problems and give you a better suggestions on how to improve it… if we'll feel it can be improved:-)
After review/critique session I or Dave are going to shoot our own assignment live, right from a studio during the hangout. How is this? For me, it sounds awesome! This way we can not only talk, but learn, learn by doing stuff. Honestly, I believe that you can learn craft only by doing it.
So, this week assignment is a bottle of red wine. I'd like to get product-type shot, but let's try to approach it creatively, OK? However, the decision on how to do it it 100% up to a photographer: we do not wan to put any boundaries.
Go and work on the shot, there is plenty of  time till next Wednesday. Take a chance to improve your skills:-)
Here are some references that were mentioned during this hangout:
Dave mentioned 1X.com, and it looks like what they offer can be interesting for both sides of the world: photographers and art buyers.  First can sell prints and add the exposure to their work, second can get prints from amazing photographers.
Non expensive Speedlite light modifiers: Lightboxes from David Honl.  Great stuff for strobists.
I've mentioned my B&Hphotovideo.com wishlist with that dual arm clamps I was showing. here it is:  Studio Support systems. The one I was talking about is called Matthews – Minigrip Mounting Kit
If you'd like to join hangout you need to be in my special "Studio hangout" circle, which I am filling with fellow photographers and amateurs who interested in studio photography.
I assume you are one of us if you read my blog, so most likely you'll be qualified and added immediately. To get in, you need to find me on G+ (it is easy) and ask to be added to "Studio hangout" circle. Oh, one more: adding to a circle is like a getting into a relationship, and I expect that you have at least a good info about yourself on your Google plus "about" page:-)
Yours, 
Alex