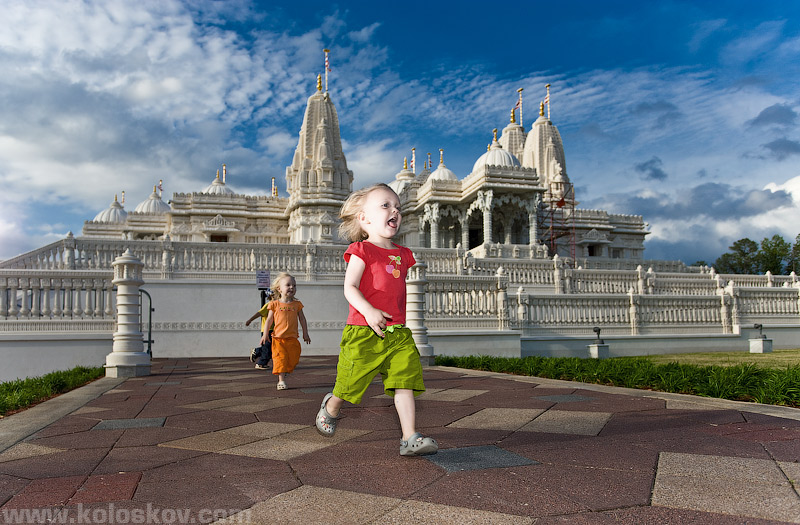 Visit to Maharaj: small piece of India in Atlanta, GA
It was unusual from the beginning: Guard at the entrance asked my first and last name, grass lawn with "please do not walk" sign, mostly Indian people around and amazing, unbelievable beauty of the place. It was like a tele-portation from dirty and boring streets of  Lilburn to opposite side of the globe. This is how our visit to BAPS Shri Swaminarayan Mandir began.
Inside, the temple  look much smaller then outside, but still very beautiful and unusual: white marble lit by colored lights, ceiling and columns all covered with amazingly detailed carving,  golden gods sitting around the room… Better see yourself  at temple's website. Photography prohibited inside, but I can only wish they hire a professional guy to do a job (yes, I can do it better :-)), falling walls does not help to see a beauty of the place.
You can't have shoes on inside, walking on a cold marble with a bare feet (I forgot to take socks with me)  was not the best nor long experience for me, I was outside withing 20 minutes. Our toddlers, Sonia and Liliana were glad even more then me: running, jumping and screaming was much more fun then looking at Gods inside of the temple :-)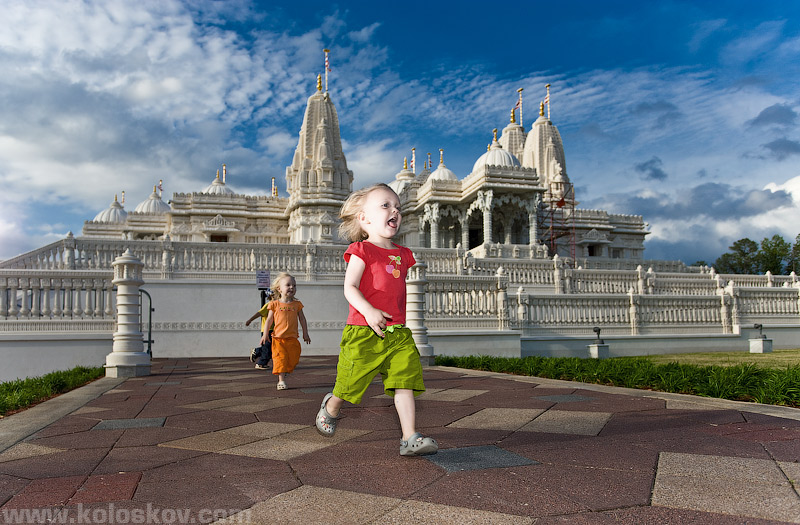 I've decided not to shoot architecture at all, as it won't be any good of it shooting from such lower position and so close to the temple. Instead, I've used two Canon 580EX Speedlite flash units to get that studio-like lighting for high speed action (toddlers are fast, you know this, right?) without any light modifiers, stands or tripods. One speedlite  was mounted on camera (used as a master) and second was a slave, held by a friend  as a side light, pointed to ruining kids.  To make pictures look more dramatic, I dialed exposure correction to minus 2/3 of a stop (to reduce brightness of the ambient light), flash exposure compensation was dialed plus 2/3 stop, making 1.5  stop difference between ambient and flash lights.
Second light on left: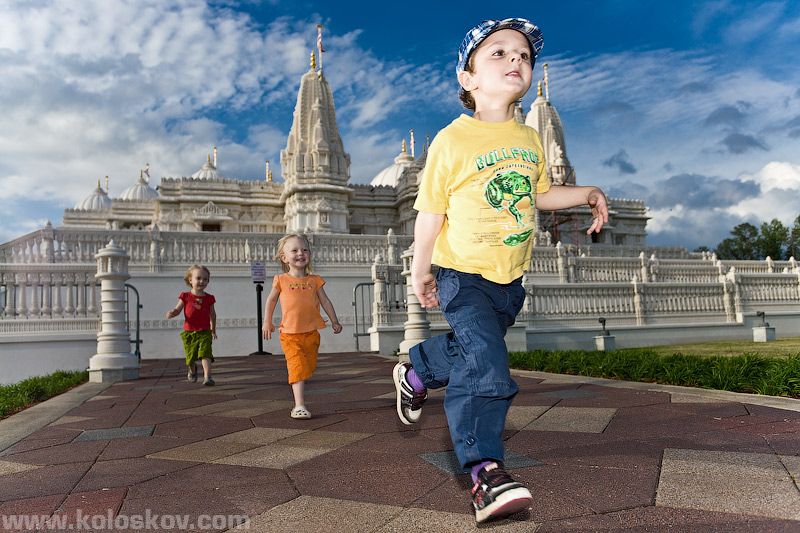 Worked pretty well, don't you think? The only one disadvantage (I call it feature:-) is that you have to have your flash units to be visible for both master and slave,  as Canon use IR communication between flashes, which makes impossible to position your second light behind or beside the camera. BTW, you can use PocketWizard or similar units to get flash synchronized by radio signal.
Few more photos, some of them were done with only one flash attached to a camera: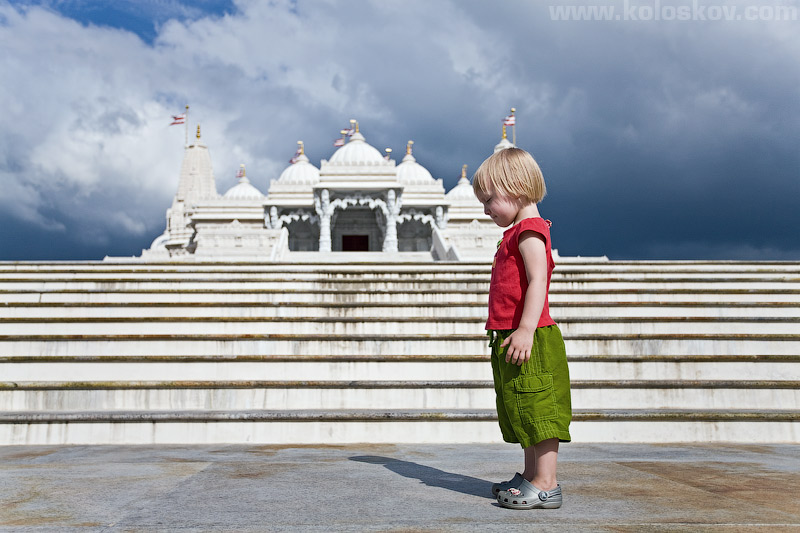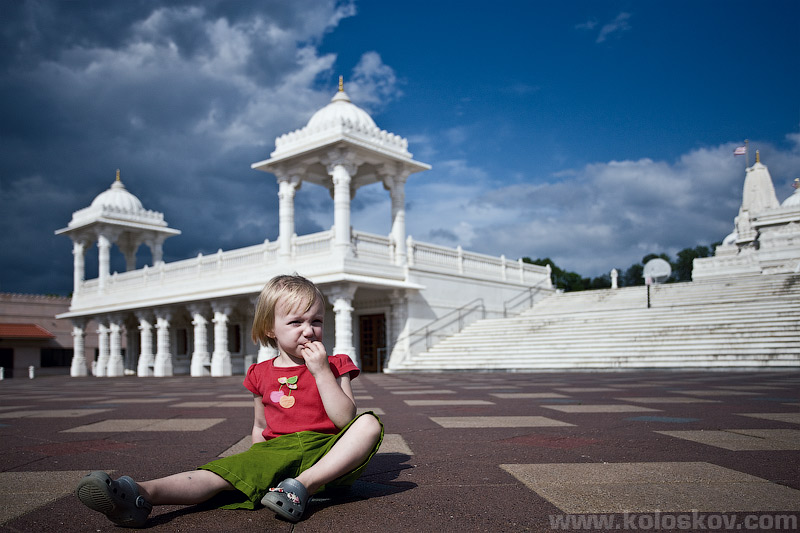 On the photo below I had (unintentionally) both flash units on a full power on a manual mode.. Image came up little overexposed, but shooting RAW and Canon's good dynamic range helped to get it fixed.
Second light on right: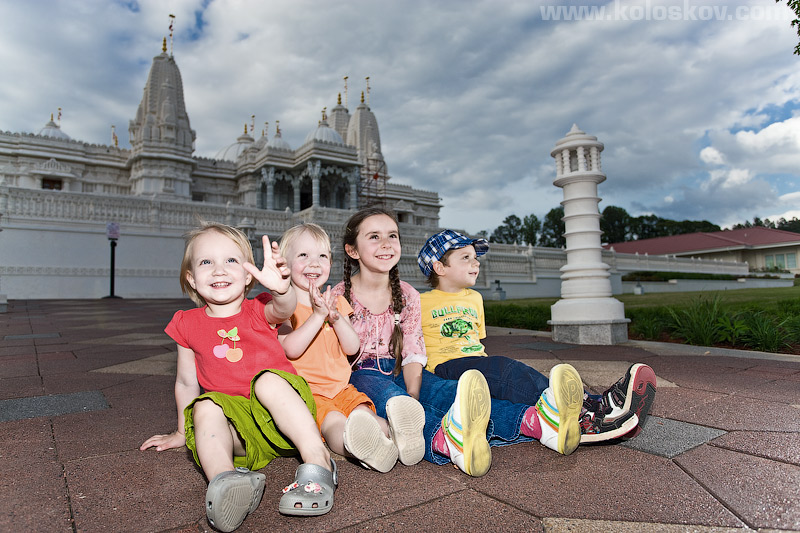 Many thanks to Nadia Strugatsky for the event!
Equipment and shooting spec:
---
Camera gear:
All shots were done with: Av priority mode, shutter speed 1/200-1/2000 sec, F4.0-6.3, ISO 100, Auto WB
---
As usual, your feedback highly appreciated!